Ch. HiBourne's They Call The Wind, NSD, NRD V 

OFA Hips Excellent WE-10523E26F-PI
Elbows Normal - WE-EL886-F26-PI
Cardiac Normal - WE-CA79/47F/C-VPI
CERF WE-620/2009-44
 Thyroid Normal WE-TH251/50F-VPI
HUU N/N Normal
CHIC # 62965
DOB 11/18/2005



Mariah is  big strided, substantial and sound with a great temperament and a kind heart. She garnered Two Best In Match Shows as a puppy,  a second place Futurity win and a 5 pt. major Best of Breed win from the classes over top ten Specials on her way to her Championship. Mariah enjoys retrieving and swimming and easily obtained her NSD and NRD. Mariah's first litter to "Parker" Ch. HiBourne's It's All About Me produced Ch. HiBourne's Foolish Pleasure "Katie".  Her next litter was to Roschel's Dauntless of Graykin "Chaz" producing two pups.  We look forward to seeing her pups in the ring showing her quality as a producer.
Mariah is enjoying her retirement with the Libby family, hunting and enjoying life.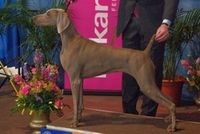 Ch. Seneca's Medicine Man

BIS BISS Ch. Arias Allegra of Colsidex

Ch. HiBourne's Lone Ranger JH, NSD, NRD V

Telmar HiBourne Evil woman

Ch. Bremar Freedom Hills Isis BROM